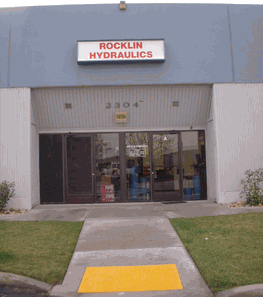 2304 SIERRA MEADOWS DR
ROCKLIN, CA 95677
Hours: Monday - Friday 8 AM - 5 PM
916-624-8900
Since 1995, Rocklin Hydraulics has been providing fast and efficient service to surrounding communities, including Rocklin, Roseville, Granite Bay, Loomis, Auburn, Grass Valley, Colfax, Rancho Cordova, Sacramento, Citrus Heights, Carmichael, Wheatland, Lincoln, Placerville, El Dorado Hills, and Folsom. We have built a reputation for offering the best customer service, unsurpassed quality, and competitive prices on all of our products and services.
We maintain a large inventory of hydraulic hose and fittings, with metric and standard thread options available. Our stock includes Standard, British, JIS, Komatsu, and German fittings. We offer hose sizes ranging from ¼" ID to 2" ID, covering low pressure hoses to high pressure hoses up to 10,000 PSI. Our shop is equipped with a Cat machine to reclaim Caterpillar hose ends, and we also carry Caterpillar hoses.
In addition to our specialty in hydraulic hoses, we also offer repair services for hydraulic cylinders, valves, log splitters, reseal pumps, and lubrication pumps. We manufacture hydraulic cylinder rods in our machine shop as well. Our services also extend to making air condition hoses, air hoses, power steering hoses, and stainless steel smooth bore Teflon hoses. At Rocklin Hydraulics, our goal is to continue growing and providing top-notch service to all of our customers.
Any comments or questions please email --
crob@rocklinhydraulics.com